1795–1846,
Dienstflagge der dänischen Verwaltung in Grönland – official flag of the Danish government in Greenland,
Seitenverhältnis – ratio = 28:53,5


Quelle/Source: nach by:

Flags of the World
1846–1979,
Dienstflagge der dänischen Verwaltung in Grönland – official flag of the Danish government in Greenland,
Seitenverhältnis – ratio = 28:53,5
Quelle/Source: nach by: Die Welt im bunten Flaggenbild
Bedeutung/Ursprung der Flagge – Meaning/Origin of the Flag:
Die heutige Flagge Grönlands ging aus einem Wettbewerb unter einheimischen Künstlern hervor, und wurde am 21.06.1985 offiziell angenommen. Die Flagge zeigt zwei waagerechte Streifen in Weiß und Rot und eine farblich umgekehrte Scheibe in der Mitte, die in Richtung Mast verschoben ist. Es sind die Farben Dänemarks, wobei das Weiß für das Eis steht und das Rot für die Sonne. Die Flagge der bis 1979 bestehenden dänischen Verwaltung war die übliche dänische Dienstflagge mit zwei gekreuzten Harpunen in Obereck. The today's flag of Greenland came about a contest under native artists, and was adoped officially on 21st of June in 1985.
The flag shows two horizontal stripes in white and red and a color-reversed disc in the center, which is moved towards the mast. These are the colors of Denmark, however, the white stands for the ice and the red for the sun.
The flag of the to 1979 existing Danish government was the usual Danish official flag with two crossed harpoons in the upper staff quadrant.

Quelle/Source:

Nationalflaggen der Welt


Wappen – Coat of Arms:

Wappen von Grönland
– coat of arms of Greenland, Quelle/Source: By Octane (Own work) [Public domain], via Wikimedia Commons
Bedeutung/Ursprung des Wappens – Meaning/Origin of the Coat of Arms:
Das Wappen von Grönland ist seit dem 17. Jahrhundert ein aufrecht hockender, silberner Eisbär auf blauem Grund. In dieser Form erscheint Grönland auch im großen Wappen Dänemarks. Grönland hat das Wappen erst 1989 offiziell angenommen. The coat of arms of Greenland is since the 17th century an upright squatting, silvery ice bear on blue ground. In this shape appears Greenland even in the greater coat of arms of Denmark. Greenland officially adopted the coat of arms not until 1989. Quelle/Source: Wikipedia (D)


Lage – Position: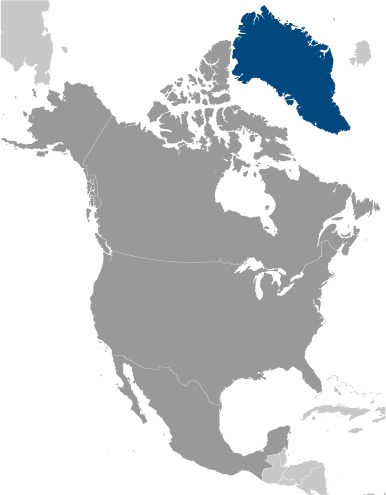 Quelle/Source: CIA World Factbook
Landkarte des Landes – Map of the Country:


Quelle/Source: CIA World Factbook
Zahlen und Fakten – Numbers and Facts:
Area:
836 327 square miles
Einwohner:
56.186 (2016)
davon
88% Grönländer (Eskimomischlinge)
12% Dänen
Inhabitants:
56.186 (2016)
thereof
88% Greenlanders
(half-casted Eskimo)
12% Danish
Bevölkerungsdichte:
0,02 Ew./km²
Density of Population:
0,07 inh./sq.mi.
Religionen:
98% Protestanten
Religions:
98% Protestant
Hauptstadt:
Godthåb (Nuuk)
17.316 Ew. (2016)
Capital:
Godthåb (Nuuk)
17.316 inh. (2016)
Amtssprache:
Dänisch, Grönländisch
official Language:
Danish, Greenlandian
sonstige Sprachen:
weitere eskimoische Dialekte
other Languages:
further eskimo dialects
Währung:
Dänische Krone (dkr) = 100 Öre
Currency:
Danish Crown (dkr) = 100 Oere
Zeitzone:
MEZ –1 bis –4 h
Quelle/Source: Wikipedia (D)


875 · Entdeckung Grönlands durch den Norweger Gunnbjørn
986 · Wiederentdeckung und Besiedlung Grönlands durch den Norweger Erik
1397 · Grönland kommt durch die Kalmarer Union an Dänemark
15.Jhd. · die Existenz Grönlands gerät in Vergessenheit, Hilfslieferungen (Brennmaterial) aus Norwegen bleiben aus, von Norden her eindringende Eskimo rotten die Norweger auf Grönland aus
18.Jhd. · Wiederentdeckung Grönlands als Wirtschaftsraum
1721 · beginnende dänische Kolonisierung
1931–1935 · norwegische Besetzung von Ostgrönland
1941 · die USA beginnen Militärstützpunkte in Grönland zu errichten
1953 · Grönland wird gleichberechtigter Bestandteil des Königreichs Dänemark
1979 · Gewährung innerer Selbstverwaltung
1985 · Grönland verlässt die EG (EU)


875 · discovery of Greenland by the Norwegian Gunnbjørn
986 · ´re-discovery and settlement of Greenland by the Norwegian Eric
1397 · Greenland comes to Denmark by the Kalmar Union
15th cent. · the existence of Greenland falls into oblivion, supporting supplies (firewood) from Norway stay out, from the north invading Eskimo eradicate the Norwegians on Greenland
18th cent. · re-discovery of Greenland as an economical region
1721 · beginning Danish colonization
1931–1935 · Norwegian occupation of Eastern Greenland
1941 · the USA start to establish military bases in Greenland
1953 · Greenland becomes a component with equal rights within the Kingdom of Denmark
1979 · granting of internal self government
1985 · Greenland leaves the EC (EU) Quelle/Source: Atlas zur Geschichte, Wikipedia (D), Discovery '97,
Fremde Pfade - ferne Gestade, Rackwitz, Erich, Urania Verlag, Leipzig, Jena, Berlin, 1986


Ursprung des Landesnamens – Origin of the Country's Name:
Der erste Europäer der die Insel im Jahre 875 betrat, war der Norweger Gunnbjørn, der sie "Gunnbjørnland" nannte. Der zweite war Erik der Rote, ein Norweger, 982 aus Island fliehen musste. Er erreichte wahrscheinlich im jahre 986 den Südwesten der Insel und gründete eine Siedlung. Von ihm stammt der Name "Grönland". Warum der Name gewählt wurde ist nicht bekannt. Einerseits ist es möglich, das damals ein milderes Klima herrschte, das eine bemerkenswerte Vegetation hervorbrachte; andererseits könnte es spöttisch gemeint gewesen sein, weil die Insel so kahl war. Ebenso verstand sich Erik der Rote als Gründer einer dauerhaften Kolonisation durch Norweger und könnte mit diesem Namen versucht haben potentielle Siedler zu motivieren. The first European who entered the island in 875 was the Norwegian Gunnbjørn, who called it "Gunnbjørnland".
The second was Erik the Red, a Norwegian, who had to flee from Iceland in 982. He probably reached the southwest of the island in 986 and founded a settlement.
The name "Greenland" comes from him. Why the name was chosen is not known. On the one hand, it is possible that at that time a milder climate prevailed, which produced a remarkable vegetation; on the other hand, it might have been mocking because the island was so bare.
Likewise, Erik the Red was the founder of a permanent colonization by Norwegians and with this name he could have tried to motivate potential settlers. Quelle/Source: Wikipedia (D)