Bedeutung/Ursprung des Wappens – Meaning/Origin of the Coat of Arms:


Das Siegel von Guam ist eine rot umrandete, spitz zulaufende, senkrechte Ellipse, die eine Strandszene zeigt: die Mündung des Aganaflusses in der Nähe der Hauptstadt, dazu ein Auslegerkanu mit Segel, eine Palme, sowie das Wort "GUAM", in roten, fetten Buchstaben. Das Siegel wurde – wie die Flagge – im Jahre 1917 eingeführt, jedoch erst 1930 offiziell angeommen.

The seal of Guam is a red-bordered, pointed, vertical ellipse containing a beach scene: the mouth of the Agana River close to the capital, furthermore an outrigger canoe with a sail, a palm tree, and the word "GUAM" superimposed in bold red letters. The seal was – like the flag – introduced in 1917, but was officially adoped not until the year 1930.
Lage – Position: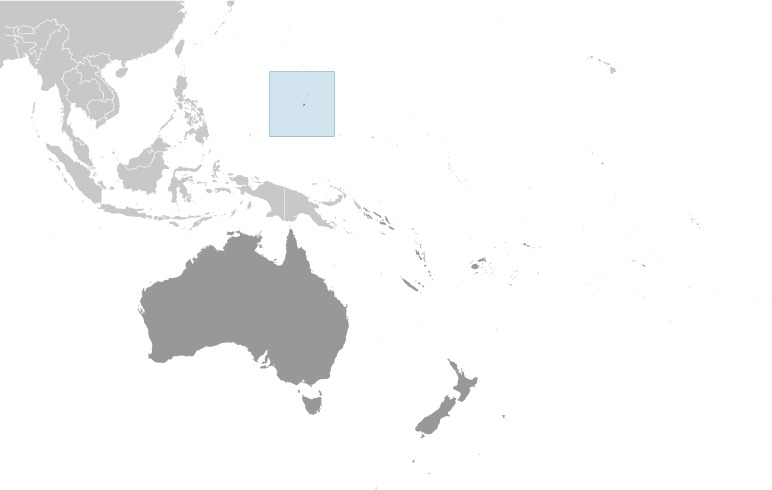 Quelle/Source: CIA World Factbook
Landkarte des Landes – Map of the Country: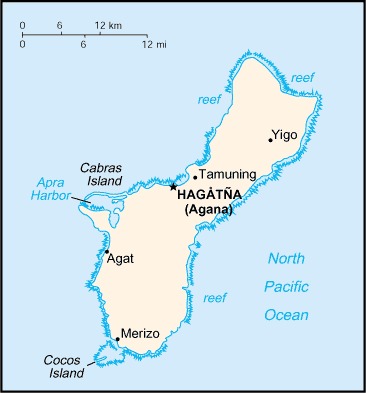 Quelle/Source: CIA World Factbook
Zahlen und Fakten – Numbers and Facts:
Einwohner:
162.742 (2016)
davon
35% Chamorro (philippinisch - spanisch - amerikanische Mischlinge)
25% Filipinos
10% Mikronesier
30% US-Militärangehörige
Inhabitants:
162.742 (2016)
thereof
35% Chamorro (half-casted Filipino - Spanish - American)
25% Filipino
10% Micronesians
30% US-soldiers
Bevölkerungsdichte:
299 Ew./km²
Density of Population:
773 inh./sq.mi.
Hauptstadt:
San Ignacio de Agaña
(seit 1998 Hagåtña)
ca. 1 000 Ew.
Capital:
San Ignacio de Agaña
(since 1998 Hagåtña)
ca. 1 000 inh.
official Language:
English
sonstige Sprachen:
Chamorro
other Languages:
Chamorro
Währung:
1 US-Dollar (US$) = 100 Cents
Currency:
1 US-Dollar (US$) = 100 Cents
Quelle/Source: Wikipedia (D)
ca. 2000 v. Chr. · Besiedlung der Insel aus östlicher/südöstlicher Richtung
1521 · der portugiesische Seefahrer Magellan entdeckt die Insel
1526 · der spanische Seefahrer Loaisa besucht die Insel
1565 · Guam von Miguel López de Legazpi für Spanien in Besitz genommen
1668 · Jesuiten beginnen die Insel zu christianisieren, der gesamte spanische Ladronen-Archipel wird von ihnen in Marianen-Inseln umbenannt, nach Marianne von Österreich, der Witwe von Spaniens König Philipp IV.
1898 · in Folge des spanisch-US-amerikanischen Kriegs von den USA übernommen
1941–1944 · von Japan besetzt
1950 · Gewährung innerer Selbstverwaltung


ca. 2000 B.C. · settlement of the island from the east / southeast direction
1521 · the Portuguese sailor Magellan discovers the island
1526 · the Spanish navigator Loaisa visits the island
1565 · Miguel López de Legazpi takes Guam in possession for Spain
1668 · Jesuits begin to Christianize the island, the entire Spanish Ladrones Archipelago is renamed by them to Mariana Islands after Marianne of Austria, the widow of Spain's King Philip IV.
1898 · in result of the Spanish-US-American war take over by the USA
1941–1944 · occupied by Japan
1950 · granting of internal self government
Quelle/Source: Wikipedia (D), Discovery '97
Ursprung des Landesnamens – Origin of the Country's Name:


Der Name "Guam" geht auf die Sprache der Chamorro, der Einwohner der Insel zurück. In dieser heißt "Guahan" oder "Guajan": "Was wir haben".

The name "Guam" goes back to the language of the Chamorro, the inhabitants of the island. In this, "Guahan" or "Guajan" means "what we have".


Quelle/Source: Etymology dictionary 2014